Placing an Advert
Once you have registered and verified your manxnet Classifieds account you are ready to place your advert(s):
Visit the www.manx.net homepage and click Classifieds

Click Log in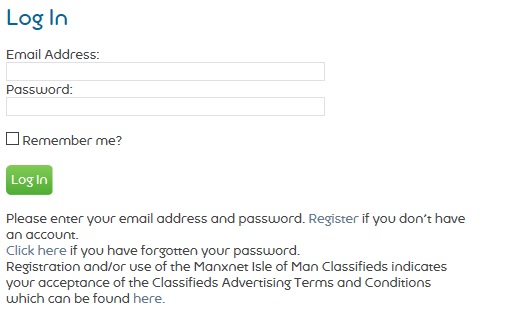 Enter your full Email Address and Classifieds Password
Click Log in 

 Click Create Classifieds 
Select a Category ie Animal & Livestock.   If you are using Internet Explorer 8 you may find that the menus are not displaying properly please see below for assistance
Click on Next 

Select a Sub-Category and click Next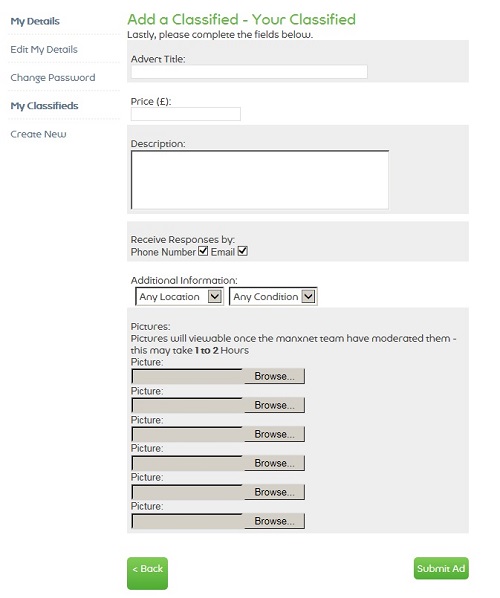 You are now presented with the advert detail where you enter the details of the item you wish to advertise
Enter an Advert Title
Enter a Price - do not use a £ symbol or enter 'ONO' for Or Nearest Offer. Enter 0 if you wish to leave this blank.
Enter a full Description.
Tick or untick the relevant box to select how you want to receive responses - by phone and/or by email (ensure that you have entered a phone number under your profile if you want contact in this way. This can be done under the Edit my details link on the main Classifieds page).
From the drop-down menus specify Additional Information relating to the item's location and the condition.
If you want to add images to your advert you should click on "Browse" and select the images from your computer.
Once you are happy with your advert click on Submit Ad.
Your advert will then be posted to Classifieds but images are moderated so please allow 1 to 2 hours for these to appear.
Advert not showing on Manx.net
If your advert does not show up immediately it may be that your account has not been verified and is not fully live.
To check if you need to verify your account log in and click on My Details and if relevant you will see an option to Resend Email Confirmation Message towards the bottom of the page.
Another common issue is due to issues with the addition of images. If you think this may be the issue we would suggest you to post the advert again without the image in the first instance and then edit your advert to add the image afterwards.
Menus not displaying correctly
If you are using Internet Explorer 8 with Classifieds you may need to enable Compatibility View for the dynamic menus to display correctly.
Images not showing immediately on your advert
If you submit an image with your advert then this will be moderated. If your image does not meet the image rules as stated in our Guidelines section we reserve the right to refuse it.