SIP Trunking
The move away from ISDN circuits is being performed by many telecommunications providers worldwide as they gradually migrate their customers from ageing ISDN technology to the next generation of connectivity called SIP Trunks. SIP Trunks provide a similar function to ISDN and are sold by the channel much like ISDN, but connect to your equipment via a Broadband or Ethernet Private Circuit, depending on the number of channels and Service Care Level required. All ISDN-fed equipment will need to be considered, for example business telephone systems, video conferencing or router backup circuits. 
Most equipment currently using ISDN can also be set up to use SIP Trunks, however we include in the installation of a piece of equipment (called an MSBR) on each SIP Trunk circuit we provide. It's capable of either converting the SIP channels back to ISDN so that your telephone system, video conferencing system etc may continue to operate on ISDN, or of passing the SIP through to your equipment.
How do SIP Trunks connect?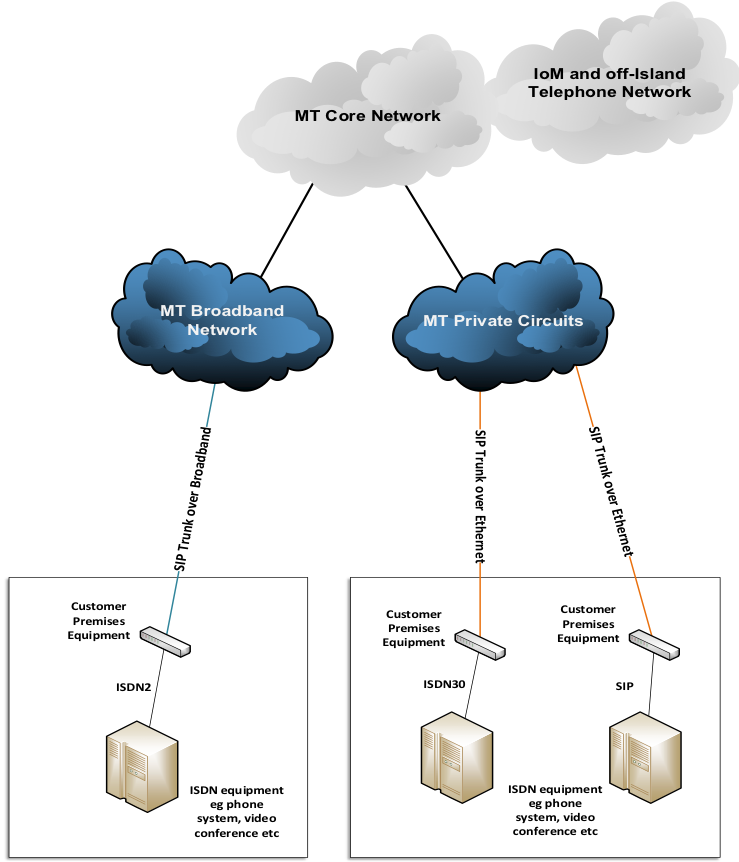 Frequently asked questions
What is SIP Trunking?
A SIP Trunk is a virtual phone line that connects your phone system to the public telephone network. It sends calls over a data network, instead of over an ISDN circuit. SIP Trunks can be used instead of ISDN circuits to carry all of your telephone calls.
What are the advantages of using SIP Trunking rather than ISDN?
Unlike with ISDNs where you have a maximum of 30 channels per circuit, a SIP trunk is fully scalable so you can have as many or as few channels as you want.

Another advantage of having your telephony services delivered over an Ethernet Private Circuit is that our future technologies will permit multiple services such as SIP Trunks, Cloud Computing, Data Hosting, Internet and Site to Site connectivity to be delivered over a single circuit, replacing the requirement for multiple circuits. 
Why is Manx Telecom changing from ISDN to SIP Trunks now?
Our ISDN platform is ageing and due for complete replacement if we are to continue to provide our corporate customers with a quality ISDN service, therefore the decision was made to make the transition to SIP, complementing our future networks strategy. 
Are SIP Trunks reliable?
The key thing isn't the 'SIP' bit, but the data circuit over which the SIP Trunk runs. To get good reliability you need a direct connection into your SIP Trunk provider. Manx Telecom's SIP Trunks are provided from our platform here in the Isle of Man to ensure the best reliability and quality possible, though not all Isle of Man SIP Trunks providers are able to offer this. A backup data circuit is also recommended for added resilience. 
What CODEC does MT's SIP Trunks Support?
We only use G.711, providing the best voice quality. 
How will my calls be billed?
Your calls over SIP Trunks will be billed exactly as they are now over ISDN.
Can I keep my existing numbers and DDI ranges?
Yes, your existing numbering will be moved onto the new circuits.
I'm currently with another ISDN provider; can I port all my numbers to work on MT's SIP Trunks?
Yes, we can port all your numbers over to work on our SIP Trunks.
Standard Pricing (includes Global Choice Tariff)
Prices shown below for standard installations. contact
Example list pricing, contact us for full details
| | | |
| --- | --- | --- |
| Number of Channels | Standard Installation | Monthly Rental (per channel) |
| 1 to 2 | £200.00 | £13.28 |
| 3 to 30 | £200.00 | £12.28 |
| 31 to 60 | £200.00 | £11.78 |
| 61 to 120 | £200.00 | £11.28 |
| 121 to 180 | £200.00 | £10.78 |
| 181 plus | £200.00 | £10.28 |
Example Connectivity Options
Access Circuit
(Speed down/up)
Maximum SIP Channels
available over Access Circuit
Fast
8
UltraFast
30
Fast Fibre
16
UltraFast Fibre
80
SuperFast Fibre
160
Carrier Ethernet 10Mbps (Metro or Non-Metro)
80
Carrier Ethernet 100Mbps (Metro or Non-Metro)
800
An Enterprise Session Border Controller (eSBC) is required, a range of devices is included or made available depending on requirements.
Prices subject to VAT